The DocuPet Story
Dog licences are really important. When lost pets end up in shelters, those with licence tags are much more likely to be returned home. Also, licence fees help support critical community initiatives. When we learned that across Canada a mere 13% of dog owners license their animals, we found our mission.
We've partnered with the Municipality of Centre Hastings to make every dog licence as valuable to you as it is to animal safety.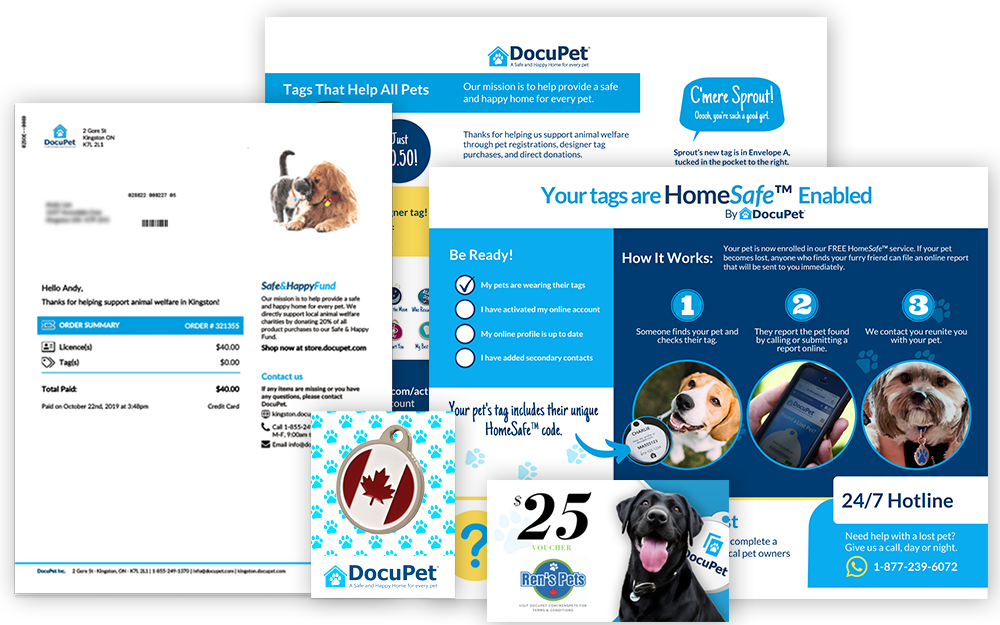 Your DocuPet Membership includes:
Personalizable Dog Tags with secure online profile
A $20 voucher from Ren's Pets per registered pet
Access to great dog safety and wellness products
Thanks for supporting animal welfare
Your Municipality of Centre Hastings Dog Licence

Every DocuPet tag comes with a unique code tied to our free HomeSafe™ Lost Pet Service. If your dog becomes lost you can send Lost Dog Alerts to local dog owners who will use your code and our 24/7 Hotline to reunite you.

Our mission is to help provide a safe and happy home for every pet. Our commitment to this mission extends beyond improvements to pet licence tags and registration programs. We also directly support local animal welfare charities by donating 20% of all product purchases including custom tags, and by collecting donations from dog owners.
The net proceeds of all funds collected in Centre Hastings through our Safe and Happy Fund go to support the Quinte Humane Society.